THE ROCKLAND CONCERT BAND was founded in 1893 and has since provided musical entertainment for the community in a variety of settings and for a number of occasions.
With the financial participation and help of certain members of the town council of the City of Clarence-Rockland, members of the Band constructed a Bandshell at Simon Park in 1991. The building has been dedicated to René Rochon, a long-time member of the band, and serves as a home base and rehearsal facility for the Band.
Annually, the Rockland Concert Band participates in the Canada Day and Remembrance celebrations, in the Annual Community Xmas Concert, as well as in local concerts at Senior Residences in Rockland and surrounding communities.
The Band provides experienced brass, woodwind and percussion musicians the opportunity to perform a variety of concert band material, in a spirit of camaraderie and pride in maintaining this long-lived musical tradition.
The Rockland Concert Band rehearses Monday evenings at the Bandshell, from 7:30 to 9:00 pm, September to July 1st.
The ROCKLAND DIXIELAND BAND is an exciting component of the ROCKLAND CONCERT BAND, performing in the "New Orleans Jazz" tradition. They are available for public and private functions.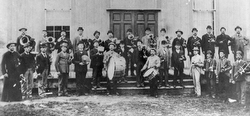 The Rockland Concert Band, 1893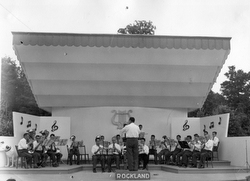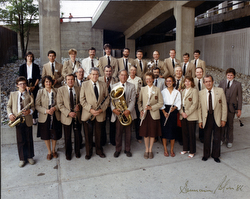 La Fanfare de Rockland, 1986