Rockland Dixieland Band
For Info, Call:
Roger Lavigne (613) 523-3237
Georges Guibord (613) 446-2364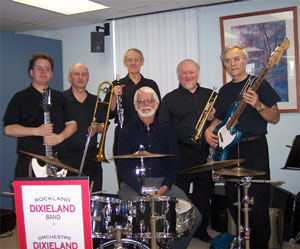 DIXIELAND CONCERT COSTS
Benevolent Concert bénévole Fee/Coûts $ 30.00 (gasoline)

First-Time Concert introduction (1-hr) Fee/Coûts: $ 90.00 (or/ou donation)
First-Time Concert introduction (2-hr) Fee/Coûts: $120.00 (or/ou donation)
Reg. 1-hr Concert 1 heure rég. Fee/Coûts: $180.00
Reg. 2-hr Concert 2 heures rég Fee/Coûts: $240.00
Reg. 3-hr Concert 3 heures rég Fee/Coûts: $300.00
WHAT IS DIXIELAND?
Mix the Blues, Ragtime, Negro Spirituals and Brass Band tunes and you have "Dixieland" music. This style of lovely and joyful music took roots and became popular around 1917-1920. It is also referred to as "New Orleans Jazz", because it was played mostly in that city.
Soon, Dixieland music spread north to Chicago, New York and thereafter across the USA, Canada and the rest of the world. Today, Dixieland music is alive and well and can be heard in many places, starting right here in Ottawa. It is used for parades, concerts, dances and even funeral processions.
The word Dixieland… what does it mean?
According to local folklore, the word DIXIE originated from the use of the 10-francs paper note under the French Rule. Ten is translated Dix in French (pronounced dee), but local people pronounced it Dix (as in fix). In time, the 10-franc note was called a Dixie and the region where it was used was referred to as DIXIELAND; mainly Louisiana, Mississipi, Alabama; in short the deep South.
THE INSTRUMENTS
Instruments of a Dixieland Band include the Trumpet, Clarinet and Trombone, backed up by a rhythm section of Guitar, Banjo, Tuba and Drums. Saxophones and Vocalists are also used occasionally.
The instruments play melodies and counter melodies simultaneously, and take turns doing solos. The melodies are played from memory or from written sheet music.
NOTABLE DIXIELAND BANDS AND MUSICIANS
"Original Dixieland Jazz Band 1917", "Kings of Dixieland"; Trumpeters - Louis Armstrong, Bix Beiderbecke, King Oliver, Al Hirt; Clarinets - Sidney Bechet, Benny Goodman; Trombone -Kid Ory; Piano –Jelly Roll Morton.
MORE INFORMATION